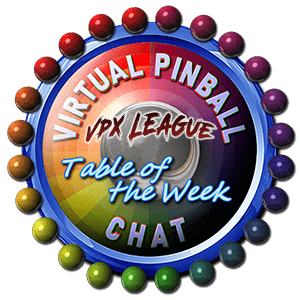 Competition Corner Pinball League
Hosted by: VPC Discord
When: Aug 29 to Dec 12
Regular Season: 12 Weeks
Playoffs: 4 Weeks
Welcome to Competition Corner VPX League!
Any player who participates during the season dates will automatically accumulate season points. There will NOT be an extra step to "join" the league.
All participants are responsible to post their weekly scores by Sunday, 12am PST
A participant will NOT receive any points, if a week is missed. This includes playoff play.
Report Scores using 'Score Bot' in Discord
Type !score
Be sure to attach photo with the post
To view your score info: type /show-score
To view the current leaderboard: type /show-leaderboard
You MUST post a pic/screenshot of your score (including backglass and table) in this channel for entry.
The score must be at the end of the game.
Any score from a High Score roster (Grand Champion, 1st place, etc) will not be allowed due to not being able to know when the picture was taken. Have your phone standing by before you play the third ball.
Scoring
Points will be accumulated weekly according to the following:
1st place: 12
2nd place: 10
3rd place: 9
4th place: 8
5th place: 7
6th place: 6
7th place: 5
8th place: 4
9th place: 3
10th place: 2
11th and lower place: 1
Ties will be broken by total accumulated scores
Playoff Format
Top 16 players at end of regular season will be invited to the Tournament of Champions.

Single elimination tournament lasting 4 weeks Players will be bracketed using an S-curve method (NCAA Basketball Tournament, i.e. 1 vs. 16, 2 vs. 25, etc...)

We will not make exceptions for missing a week in the playoffs. If a participant cannot post a score, the participant will forfeit the match, assuming the opponent has posted a score.
Rules
Weekly table posted in Discord.


You MUST use the specified table and version.


No table or script modifications allowed that affect gameplay, except "fast flips" may be enabled if possible, or follow specific instructions for a given week.


Number of balls per game MUST NOT be modified. No EXTRA BALL buy-ins.


Only SINGLE-PLAYER games allowed since some games provide an advantage when in multi-player.


Competition takes place from MONDAY to SUNDAY and ends at midnight Pacific time on the final day of the event.


If you are the leader on Sunday, we kindly request that you DM @apophis on Discord with your pick for next week's Table of the Week so that there is no stoppage in the weekly competition.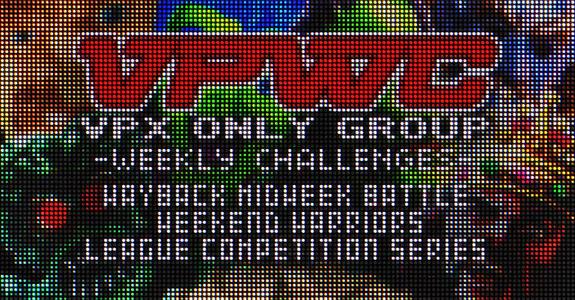 VPX Facebook League
Hosted by: VPC Discord
When: 3 Months then Playoffs
Regular Season: 12 Weeks
Playoffs: 4 Weeks
Welcome to VPWC
A great community of people who share their love of pinball, both real and virtual.

Three tables per week, with a Week long table, a Wednesday table and a Weekend table.
Score Reporting
Scores are submitted via photo.
Photo must be taken with a camera, screenshot not accepted.
Must be prepared at the end of the game, High Score list photo is not accepted.
It must include the full playfield and DMD with a readable score on it.
If necessary, it should include the "word of the day"!
Playoff Format
At the end of the 3 month league games there shall be a short break.
The top 8 players in each league will be put forward.


If any players that are nominated cannot make the play offs then they are to inform me straight away so that their place can be taken by someone who can. In the event of a tie in scores there is to be a mini face off between the 2 players.


The playoffs will go ahead as follows:
Each league has a different table. Tables selected will be some of the most popular ones. They will only be VPX tables. Each player will then be given 24 hours to get their best score on that table.

Players are to submit their highest score to me before the 24 hours expires. Once a score is submitted to me I will not accept any more from the same player.
Rules
Virtual Pinball Cabinets only. On entering this FB group you need to submit a photo of your build to be eligible to participate. Laptops are only to be used as a temporarily measure when you are away from home.


Honesty is our policy. Read our rules on score submission, photos and more. Score policy is important, score 1st then text.


Minimum one score per month. No wallhugging. If you want to be here you have to at least submit one score a month to stay active. No scores submitted will result in removal without notice.


No Politics, Hate Speech and no Advertising. Any sort of bullying or degrading comments, as well as anything political result in immediate ban. No questions or reprieve. If you have a technical problem, ask your question in the appropriate group. Any advertising within the group is prohibited without the consent of the admins! We're here to play pinball and build a friendly community.


Cab Pic and Community Map. Once membership has been cleared you are required to submit a photo of your cab in the TOPIC SECTION called #membercabbuilds. This is to ensure there is no bluffing. Also, please write your place of residence (city name) to the admin (or indicate it next to your cab pic) so we can mark it on the Community Map! (The map can be found under the #member_map topic.)


Equal opportunities. In order for all players to have an equal chance to start in the challenges, it is necessary not to change the factory settings (downloaded state of the table). Of course, modifications that do not affect the gameplay (free play, lights and POV modification) are allowed!
Virtual Pinball Events!
Welcome to the collection of Virtual Pinball Tournaments & Leagues, we searched the internet for events ran by the community.
Here you will find links and info on how to participate or tune in. We are always looking for more Virtual Pinball tournaments, leagues and events to add to our list. If you run a virtual pinball event and would like it added to this page click the button below.